2015 was an insane year for Oscar Isaac. Going from strength to strength, the Guatemalan-American actor seems like he can do no wrong. His impressive filmography spans across genres, effortlessly penetrating both commercial blockbusters and impressive indies. A smooth air of cool surrounds him; something that very few can pull off.
I was first made aware of him in the Coen brothers' 'Inside Llewellyn Davis', in which he played the title character, an elusive, aspiring folk musician, struggling to make a name for himself. Set against a 1960s New York backdrop, Isaac carries the film and completely controls the tone of the narrative. It's very easy to switch between sympathising with the tragedy that surrounds Davis, whilst appreciating the comedic elements of his semi-arrogant hapless hero – a thematic trait that seems to somewhat define Coen Brothers' films.
As with everything that you become aware of, it suddenly felt as if I was seeing him everywhere. Watching the trailer for 'A Most Violent Year' sent shivers down my spine as his raspy yet firm narration tingled with poignancy. Unfortunately, when I came around to watching it, I was mildly disappointed.
Ex Machina is just unreal. Perhaps my favourite movie of 2015, the cold, artificial and metallic tone of the movie immersed me into the confused isolation presented on-screen. Isaac perfectly portrayed the tech genius gone mad, and the dance scene (below) is one of the most creative things tonally I've seen in a film. Shout outs to Domhall Gleeson too here, who similarly had an insane year… and also starred in Star Wars. Hmm.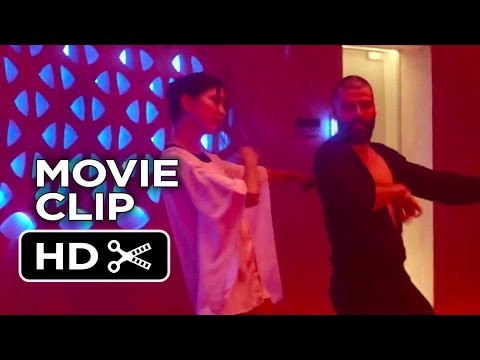 So we've seen this guy sing his heart out in "Inside Llewyn Davis," play a cool and collected businessman in "A Most Violent Year" and spark bromance fan theories in "Star Wars: The Force Awakens," but now we are lucky enough to witness the ever-broadening scope of this dude's abilities in this incredibly violent short film.
Written and directed by Brian Petsos, the dark comedy short film "Ticky Tacky" takes place in one stunningly-designed office over three crucial days in the life of a wealthy and powerful man. On the first day, he finds out his wife is cheating on him with his cousin. On the second, his young henchman and spy delivers a suitcase full of guns. On the third, well, let's just say that the insanity that goes down has to be seen to be believed.
The future looks great for Mr. Isaac we think.